Story
KwaZulu-Natal floods: building back better for every child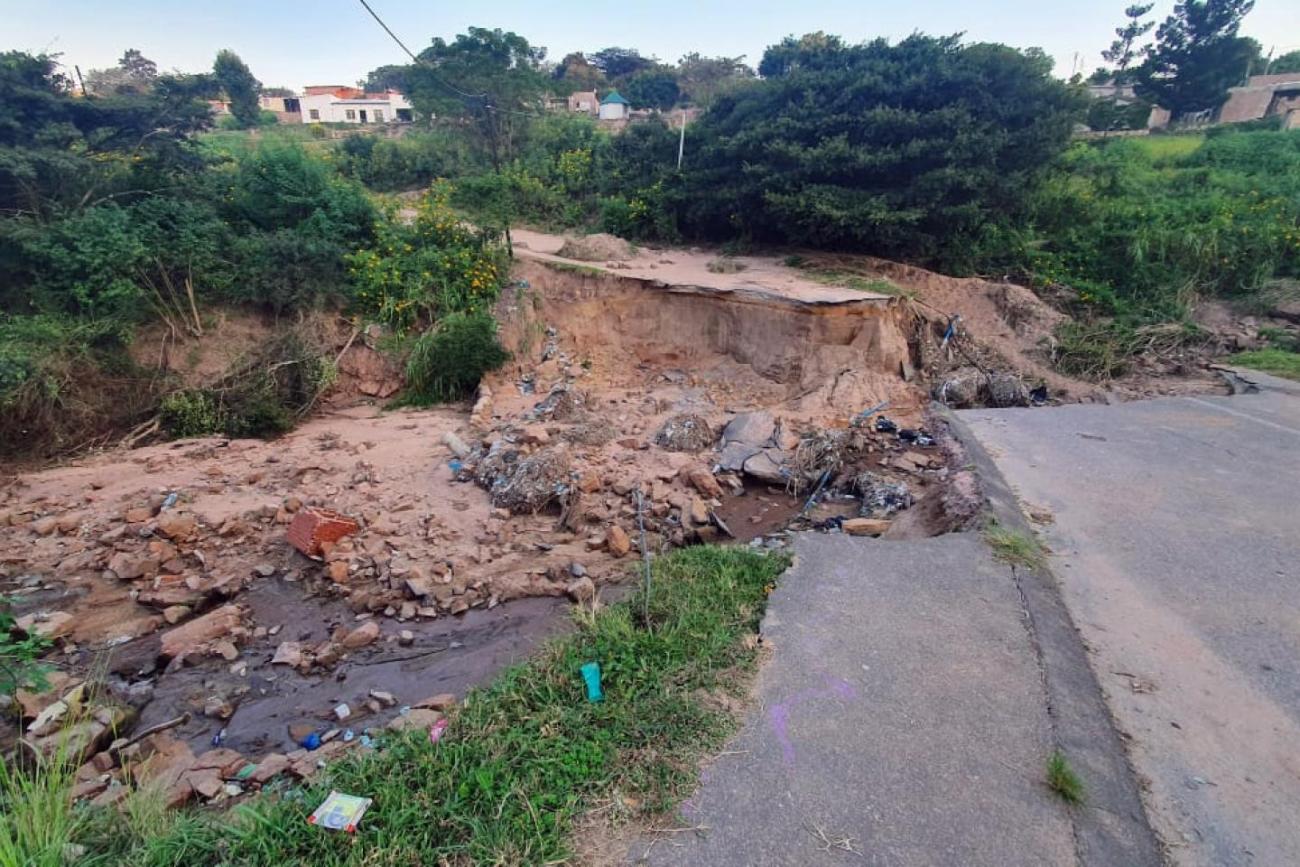 In the wake of the devastating floods, UNICEF and partners are providing affected children and families with immediate relief and psychosocial support.
"Water flooded in through the door here, so we had to break the small window in our bedroom to escape and go to our neighbours who're further down from here," says 21-year-old Lungelo Sogoni. As she talks, she points out the shoulder-height water mark against the ply-wood wall of her shack with one arm, while holding her 7-month-old baby, Enkosi, on her hip with the other.
Lungelo is trying to rebuild her life, one month since the devastating floods that hit parts of Durban in South Africa's KwaZulu-Natal province. She lives in Dakota informal settlement in the south of the city.
"It's been really tough. Everything has been damaged. We haven't had water to drink and what was left behind is covered in mud," she says.
The floods wreaked havoc between 08 and 11 April and claimed more than 430 lives – including 67 children – some 40,000 people remain in community halls and shelters after their homes were washed away. As the waters receded, amongst the debris, death and destruction a wake of trauma has been left behind and survivors – some of whom are still searching for the bodies of their loved ones – urgently need support.
A few hundred metres from Lungelo's home, is the three-roomed shack belonging to Lufuno Shezi, her disabled father and disabled brother and her child.
Their home was damaged during the floods and they had to seek shelter elsewhere while they waited for the water level to subside.
Multi-purpose cash grants and psychosocial interventions are a major part of UNICEF South Africa's response to the crisis. With partner, Refugee Social Services (RSS), families who have lost everything are being provided with cash to cover their immediate needs.
Photo: UNICEF South Africa/2022/Matangira - Lufuno Shezi (24) from Isiphingo, south of Durban, walks us through the home she shares with her father, brother and child. She is one of the flood victims who received assistance in the form of cash vouchers from UNICEF and Refuge Social Services.
"I was able to buy a stove and kettle, as well as food for us all with the voucher I received. Lufuno Shezi
"The money meant that I could at least buy oil, rice and pap (maize meal)," says Honeyck Kandayah, a 34-year-old Malawian who has lived in Isiphingo for four years. "I had to save my life over the things I have,", she adds, looking up towards the hill that he clambered up to escape the raging waters.
"The water came so fast, we just had to run. I've lost all my documents and now I've also lost my job because my company was also damaged by the floods and had to let some of us go", says Honeyck.
Honeyck's phone was also lost in the floods which meant that he couldn't use e-Wallet to receive the relief cash grants.
"We had to quickly change direction to use physical vouchers to ensure that survivors received immediate assistance and could provide a meal for their children," explains Yasmeen Rajah, the Director of Refugee Social Services.
To date, 127 cash grants have been distributed to affected families.
While UNICEF's partners on the ground continue to monitor the needs of children and families affected by the floods, ensuring that sustained support in helping affected communities to pick up the pieces and build back better is an urgent priority.
UN entities involved in this initiative
UNICEF
United Nations Children's Fund