Story
Keeping the youth on air: the story of Intokozo FM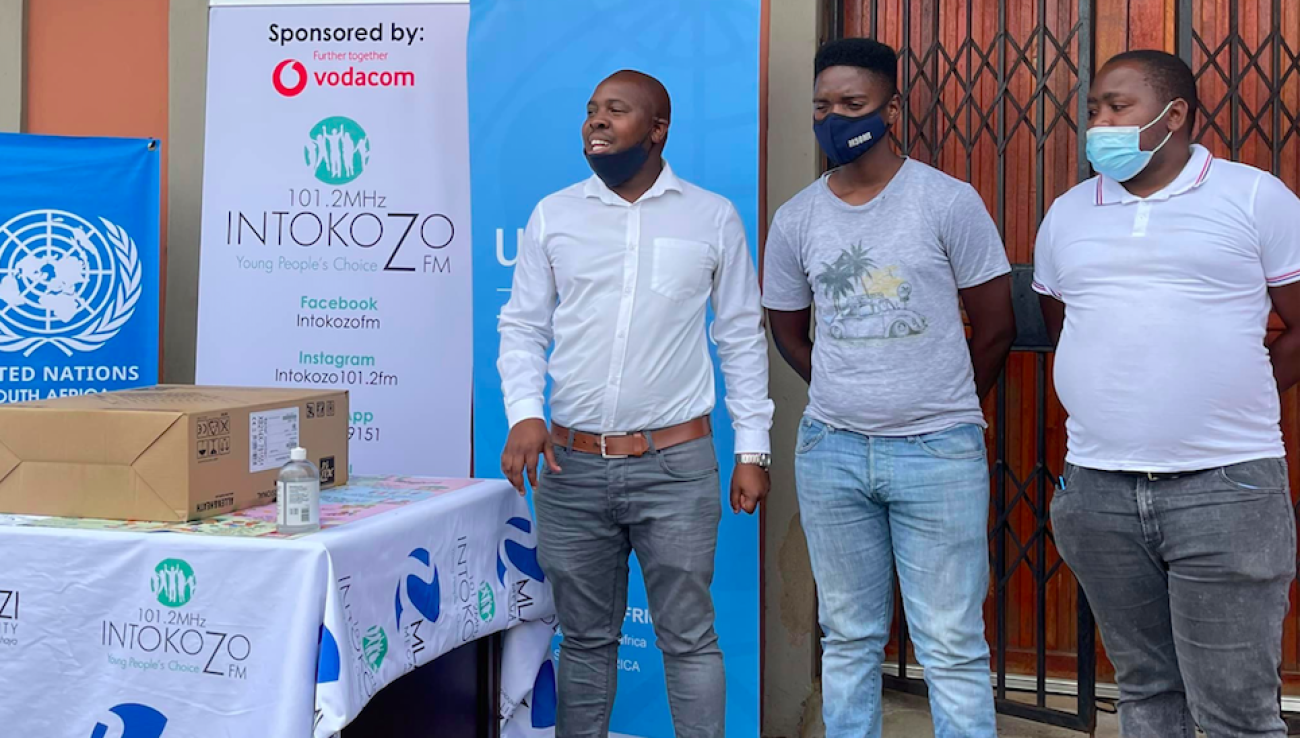 Recognizing the gaping hole left when Intokozo's offices were vandalized during the looting in KZN, UNICEF South Africa generously donated radio equipment.
One of the five community radio stations that was severely affected by the civil unrest and looting in KwaZulu-Natal Province in July this year was Intokozo FM based in Umlazi, southwest of the coastal city of Durban. The radio station, which has an estimated 100,000 listeners, was created by youth from the informal settlement who came together in 2013 seeking to provide youth with a voice on critical issues such as HIV/AIDS, gender-based violence, social cohesion and rising unemployment.
According to Mxolisi Ntanzi, the Intokozo FM station manager, the radio station was borne from the "challenges the youth were facing. There was a high rate from social issues such as substance abuse and unemployment, to name just a few."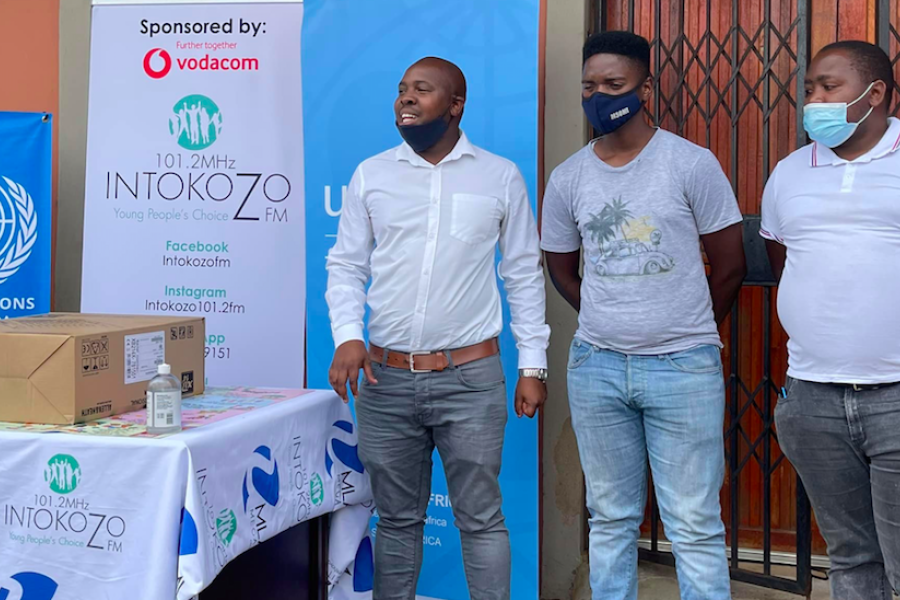 "We tackle social issues by inviting different people to come and speak on the air about ways to combat them. We also invite graduates and experts who can show the pathways youth can take in fields such as entrepreneurship, agriculture and so on," he says, adding: "We have also had very successful road campaigns in the township which provide the youth with access to people who can assist them. We have educational programmes for schools to encourage students to study and provide hope."
Recognizing the gaping hole left when Intokozo's offices were vandalized, UNICEF South Africa generously donated radio equipment to replace the stolen mixer board as part of its efforts to assist community radio stations that serve mostly youth in poor neighbourhoods.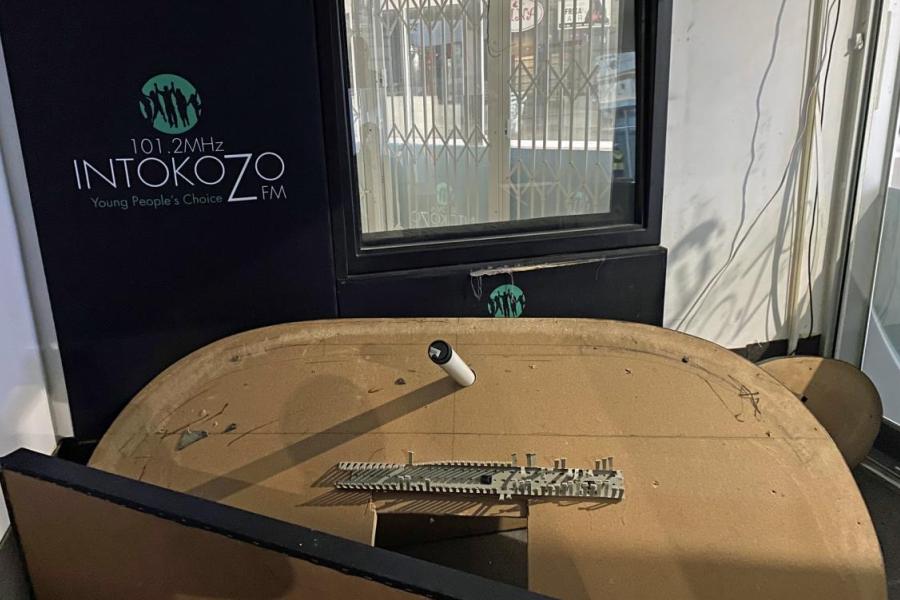 Intokozo FM (intokozo means "happiness" or "joy" in Zulu), was previously located in the Mega City Mall in Umlazi, the country's fourth largest township. The looting and subsequent damage to the station came as a surprise to the team even though shops were already being looted and destroyed at the mall.
"We knew there was looting and violence, but we never, never thought they would attack a community radio station," said Mr. Ntanzi, adding that the phone call came late one evening informing him that the radio station equipment had been stolen, which then forced the station to go off air.
"You know, if you have no mixer board and equipment, you can't broadcast and one day off air is huge because listeners are looking to us to get information on what was going on; and I didn't know what to do."
The station manager described feeling helpless because of the destruction and the looting. "We are team of youth, and we honestly didn't know what to do. So, we began to make calls to different stakeholders and the councillors asking for advice on the next steps. We were fortunate that the councillor and many others were able to help us especially from the municipality even though municipality services were also disrupted by the riots."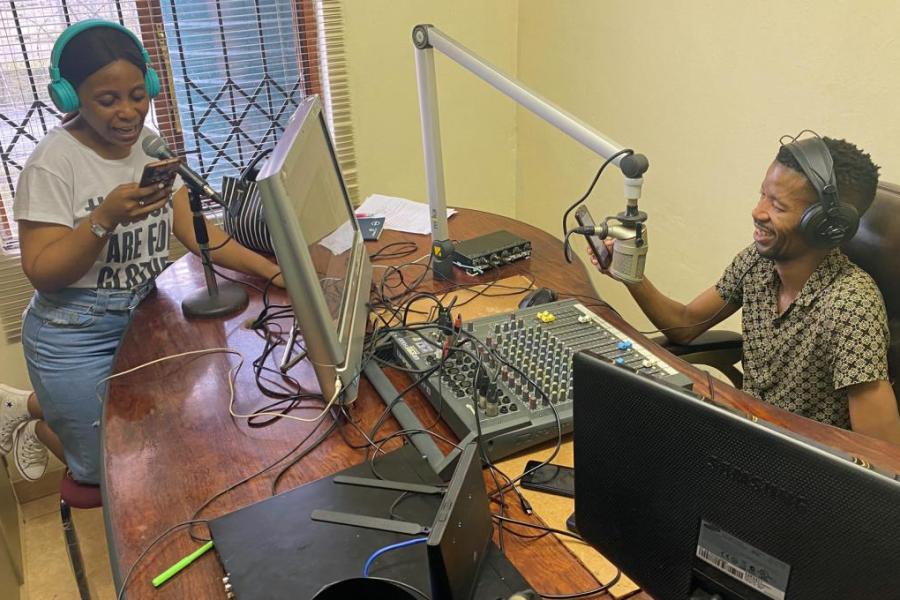 Speaking outside the radio station at the handover of the new equipment, Nardos Bekele-Thomas, the Resident Coordinator and head of the UN in South Africa said, "We cannot address issues in isolation. We cannot look at health and leave out education, all aspects are needed to ensure that people live in dignity. That's why a community radio station is so critical and so important because it integrates all these aspects into their programming."
"We recognize the role these community radio stations play especially in the communities that face so many challenges," said Muriel Mafico, the Deputy Representative of UNICEF South Africa, speaking at the same occasion. "We are committed to assisting stations such as Intokozo FM to continue guiding the youth and playing the important role that they do in not just bringing the community together but also in taking communities forward."
The UN South Africa team, led by the Resident Coordinator, was in the province as part of its commemorative activities to mark the UN Day, observed annually on 24 October.
The radio station, which is currently broadcasting from a temporary studio, was back on air a week after the unrest. UNICEF South Africa is assisting community radio stations affected by the violence, and together with corporate companies, including Nedbank and Grey Advertising, were able to provide them with new equipment so they could remain on air.
Ms. Muriel Mafico, UNICEF Deputy Representative visited Intokozo-FM radio in Umlazi, KwaZulu-Natal.
UN entities involved in this initiative
UNICEF
United Nations Children's Fund