The United Nations in South Africa signs MoU with government to provide support on the District Development Model aimed at progressing service delivery
The UN aims to support government by realigning itself to support local government, service delivery and availing its resources and expertise.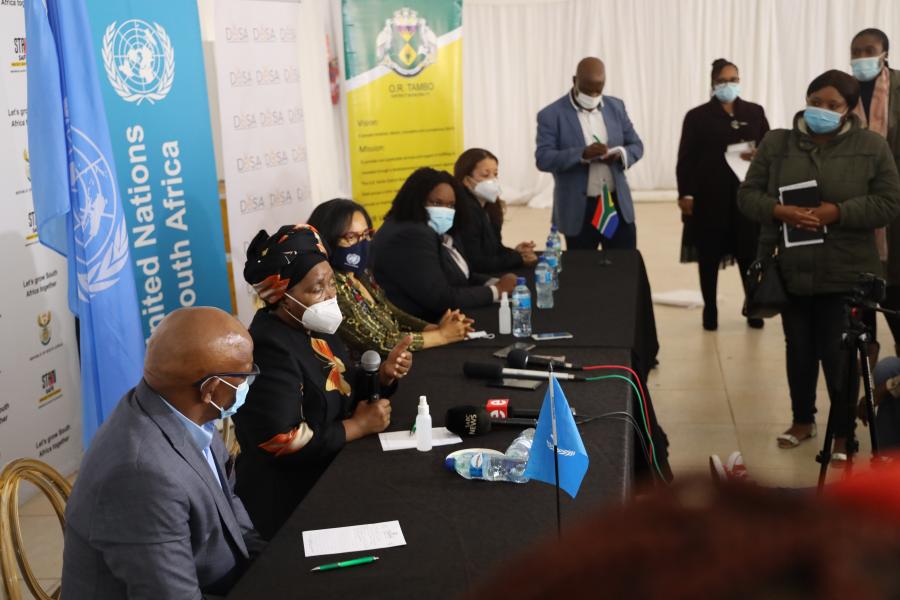 Photo | UN South Africa
O.R Tambo District, Eastern Cape – The Department of Cooperative Governance and Traditional Affairs (COGTA) and the United Nations in South Africa today signed a Memorandum of Understanding to kick start ground-breaking local development projects in O.R Tambo District in Eastern Cape Province. The partnership, which was ratified by Ms. Avril Williamson and the head of the UN in South Africa and Resident Coordinator, Ms. Nardos Bekele-Thomas, follows the launch of the District Development Model by government in late 2019 with the aim of enhancing service delivery in three pilot districts across three provinces including Waterburg District in Limpopo and eThekwini district in Kwazulu-Natal. 
In her address, the Resident Coordinator, Ms. Nardos Bekele-Thomas said that the UN South Africa office is very excited to provide support to government as "local government is where citizens and their Government interact the most and where most services are delivered. It is also where, for most people the government's trust and legitimacy is won or lost". 
She added that "to function effectively local government needs to be empowered, to be resourced and capacitated to be a driver of local development.  Citizens are still having to travel long distances and even sleeping on the streets to access basic services only available in urban centres. We must reenergize our efforts to ensure that services reach all communities and are focused on their needs."
The UN in South Africa aims to provide government with support by realigning itself to support local government and service delivery and placing its resources and expertise at the disposal of municipalities and their citizens. "I am particularly excited about establishing Songhai centres, which have a proven track record of successfully boosting agriculture, but in a way that is sustainable," said Ms. Bekele-Thomas. "They are a driver of employment and growth, while encouraging food security, they are a fitting embodiment of what the Sustainable Development Goals seek to achieve. These signature projects seek to empower citizens through the enhanced provision of services and bringing citizens and local government closer together."
Speaking at the groundbreaking launch of the DDM partnership with the United Nations, Minister Nkosozana Dlamini-Zuma said that, the implementation would help lift millions of people out of poverty and open up space for job creation to stimulate the economy in O.R.Tambo District. The Minister, further emphasized that the district development model approach will assist in building sustainable, resilient communities in South Africa.
UN entities involved in this initiative
FAO
Food and Agriculture Organization of the United Nations
IFAD
International Fund for Agricultural Development
ILO
International Labor Organization
IOM
International Organization for Migration
OHCHR
Office of the United Nations High Commissioner for Human Rights
UN Women
United Nations Entity for Gender Equality and the Empowerment of Women
UNDP
United Nations Development Programme
UNEP
United Nations Environment Programme
UNESCO
United Nations Educational, Scientific and Cultural Organization
UNHCR
United Nations High Commissioner for Refugees
UNIC
United Nations Information Centre
UNICEF
United Nations Children's Fund
UNIDO
United Nations Industrial Development Organization
UNODC
United Nations Office on Drugs and Crime
Goals we are supporting through this initiative