People powered #TippyTapChallenge relaunched to help curb the spread of COVID-19 through handwashing
Through partnerships with Zlto, and The Shoprite Group, the #TippyTapChallenge engages and rewards young people who construct handwash stations.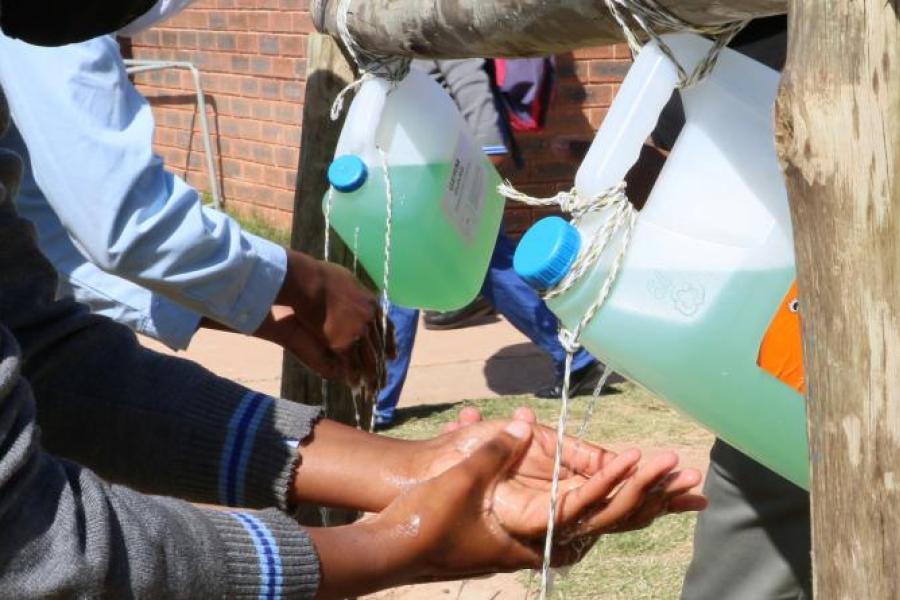 Photo | UNICEF
As the nation works to stop a resurgence in COVID-19 infections, UNICEF South Africa and partners relaunched the #TippyTapChallenge on World Water Day to improve access to handwashing facilities and to reiterate the importance of handwashing with soap.
With an estimated 2 million households in South Africa not having access to handwashing facilities, there continues to be an urgent need for an inexpensive, easy to assemble and effective handwashing solution.
Requiring no more than some string, wooden poles, a nail, a plastic bottle or water container and a bar of soap, a tippy tap can be quickly assembled, providing a simple and hygienic handwashing station. COVID-safe Tippy Tap field demonstrations also help activate the challenge, and create opportunities to engage communities on handwashing. The #TippyTapChallenge includes an innovative partnership between UNICEF South Africa, The Shoprite Group and Zlto – a digital rewards platform that incentivises young people to volunteer in their communities, while recording their experience as a work asset in a verified CV that can bridge unemployed youth with opportunities in the formal job market. Young people are also able to earn digital rewards for every tippy tap built via the Zlto app, and for every tippy tap nano-course completed. Zlto rewards can be redeemed for food, airtime vouchers and electricity.
"It is really a win-win situation", says UNICEF South Africa Representative, Christine Muhigana. "While we welcome the arrival of COVID-19 vaccines in South Africa, non-pharmaceutical interventions remain crucial to curbing infection rates and Tippy Taps form a vital part of this effort", she adds.
Following the success of the initial campaign – where more than 3,200 young people took part in building the inexpensive, easy-to-construct handwashing devices and a further 24,000 enrolled in the "Build a Tippy Tap" nano course – the campaign has been extended for a further 2 months through the support of Zlto and The Shoprite Group. 
More than curbing infection rates and providing young people with an opportunity to earn rewards and build work experience, the groceries, electricity and airtime vouchers that participants can earn through the #TippyTapChallenge, make a real impact in the lives of so many who are suffering the socio-economic impact of the pandemic and related lockdowns.
"Most of the Tippy Tap Challenge's participants are unemployed young people aged between 18 and 28 – the challenge gives them an opportunity to contribute to the fight against COVID-19 and put food on the table while building their work experience and linking them with future employment opportunities", says Allan van der Meulen, co-founder of Zlto.
Thanks to efforts of community-based organisations like World Vision SA, the #TippyTapChallenge has reached thousands of young people across South Africa and will continue to reach thousands more. Over the next two months World Vision in the Eastern Cape will be running #TippyTapChallenge activations in 10 local schools, and distributing the Field Guide to tens more, to mobilise youth around handwashing. Previously WVSA has built Tippy Taps for community food gardens, food vendors, spaza shops & households, he says. 
UN entities involved in this initiative
UNICEF
United Nations Children's Fund
Goals we are supporting through this initiative