Story
Despite attacks suffered during last year's unrest, Alex FM continues to broadcast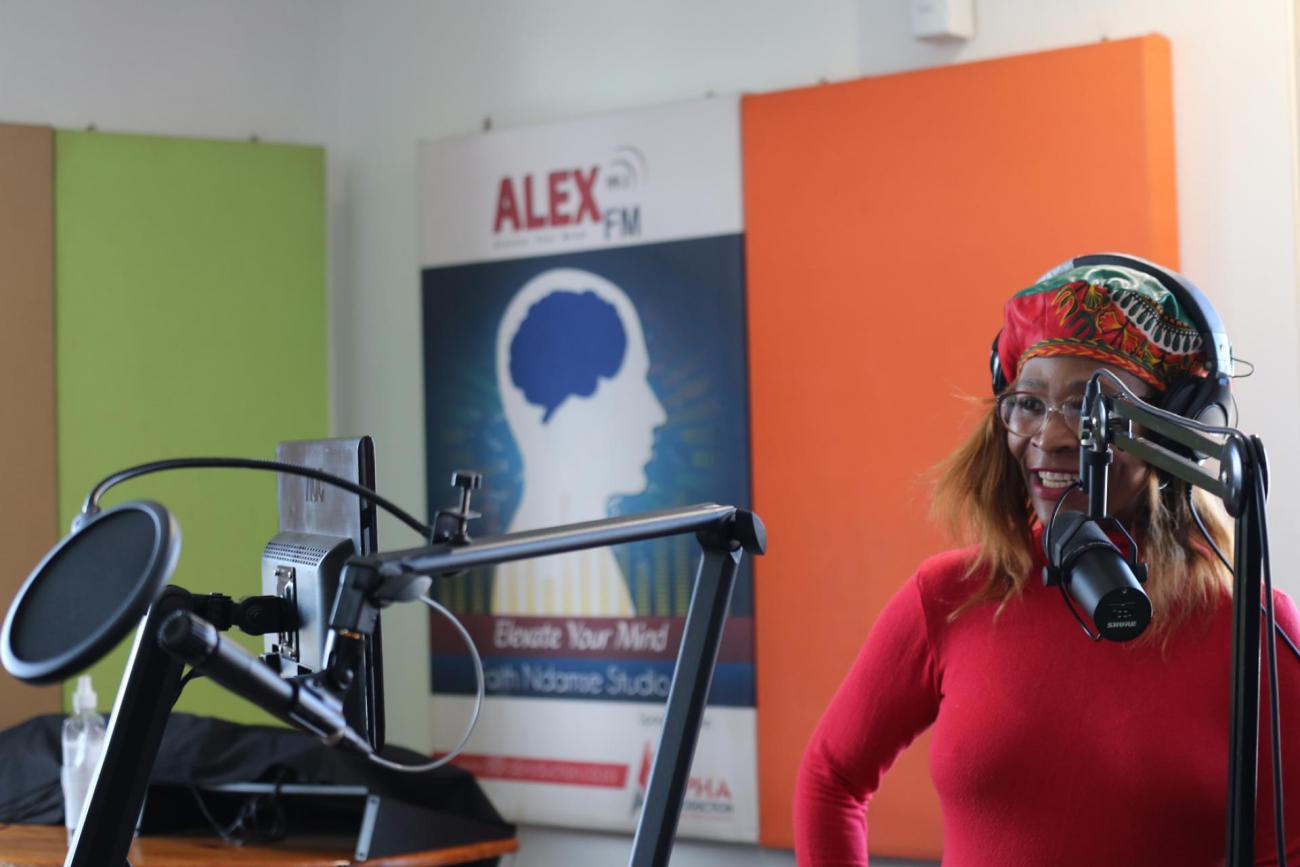 Strong again, a year after the July 2021 unrest
Restoring peace and fostering social cohesion in communities that were affected by the devastating unrest in July last year was a key component of the work carried out by the Children's Radio Foundation's Peacebuilding Dialogues, with support from UNICEF South Africa. One year later, a visit back to one of the radio stations that participated in the dialogues found that much had changed.
"They came in and stole from themselves," says Takalani Nemangowe, the Station Manager at Alex FM community radio station. Takalani talked about the events that resulted in the station being one of the casualties of the riots that shook KwaZulu-Natal Province and parts of Gauteng in July 2021.
In the early hours of 13 July 2021, a day after widespread looting started in the township, an unknown number of people broke into the radio station, located in the heart of Alexandra's business and transport hub, and looted virtually everything. Not one item was ever recovered.
"I was very disappointed because Alex FM employs 52 young people from the community, and I saw the futures of these young people shattered. The very same community that Alex FM gives a voice to, silenced that voice."
Alex FM is one of the oldest community radio stations in South Africa. Its first broadcast went live in late 1994, just after the country transitioned into a democratic state. For three decades, it has served its community and its surrounds, becoming a source of information to its 280,000 listeners while also being a youth training and development institute for many young people.
Thembi Ndlovu, a regular listener who has lived in Alexandra since 1989, attests to the impact the station has on the community which she describes as a source of hope and light to the notoriously troubled township. She says it often goes beyond the call of duty to bring key information and help that directly benefits residents and giving back to those most in need.
"I love Alex FM with all my heart. I listen to every single show," says Ms. Ndlovu. "They have so much respect for their community. To anyone who ever again would think of doing what they did to Alex FM last year, I would tell them not to do it, because Alex FM is ours. It works for us. They benefit us. During COVID-19, they were there for us. When we're in distress, they're there for us. They love us and we love them."
This mutual appreciation and respectful relationship between the station and the community was demonstrated after the riots when residents came together to give whatever they could – big and small – to help rebuild the station and get it back on air.
Ms. Ndlovu says her desire is to see Alex FM growing from strength to strength and for the community to protect it so that the youth of today and future generations can continue to be positively impacted by its work.
Tragically, all the station's historical archives dating back to its infancy were lost forever, but despite this, the station was able to rebuild and come back stronger and undeterred, says Nemangowe. Generous donations enabled the station to get back on its feet quickly and buy new and better equipment so the station could continue broadcasting.
UNICEF South Africa, through its long-standing partner, the Children's Radio Foundation, assisted young broadcasters at Alex FM to play an active role in bringing their peers and communities back together through a series of Peacebuilding Dialogues, which were produced into a three-part podcast.
The episodes were produced following facilitated sessions with nearly 300 young people and community members from across eight provinces. The discussions and related broadcasts provided a platform for youth to express themselves, share opinions and solutions, as they coped with the mental health and broader impacts of the unrest.
Young people from Alex FM were trained to facilitate the dialogues on the unrest through weekly radio slots and WhatsApp and in-person engagements with the community.
"We are grateful to  UNICEF South Africa and the Children's Radio Foundation and all others who stood up to assist us in any way they could," says Nemangowe.
UNICEF South Africa's role in this process is part of a broader effort to support community dialogues and continue to focus on a whole-of-society approach to fostering an environment that is safer and more conducive for children and young people.
UN entities involved in this initiative
UNICEF
United Nations Children's Fund