Press Release
Cricket 4 Good clinics promote physical and mental wellbeing and build life skills among children and adolescents
19 January 2023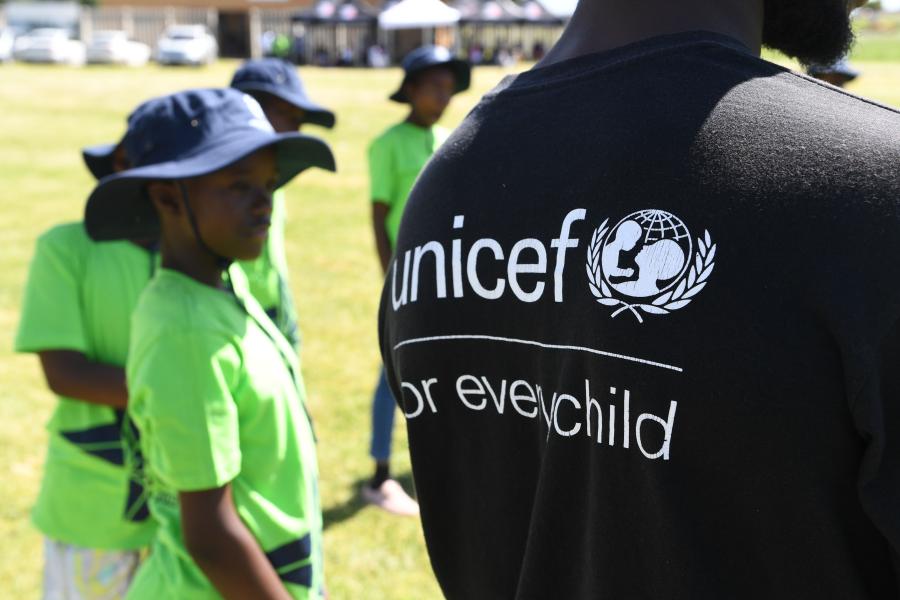 Sport is a powerful force for good and is one of society's greatest levelers to promote tolerance and gender equality. 
BENONI, 19 January 2023 – More than 450 children and teenagers have taken part in a series of Cricket 4 Good coaching clinics, running alongside the inaugural ICC U19 Women's T20 World Cup, at schools across Gauteng and North-West Provinces.
The sessions, delivered in partnership with the International Cricket Council (ICC) and Cricket South Africa (CSA), along with players from all sixteen participating World Cup countries, were complemented by a 'Sports for Development' component run by UNICEF South Africa youth volunteers. The clinics not only promoted cricket and sports for physical and mental wellbeing, but also built life skills and self-awareness.
Claire Furlong, ICC General Manager – Marketing and Communications said: "The ICC's Cricket 4 Good programme is focused on empowering women and girls through cricket, and we are delighted to see more than 450 young people participate in these clinics in South Africa.
"Sport has extraordinary power to change lives and these sessions combine the fun of cricket with essential life skills that promote gender equality to both girls and boys. Thanks to Cricket South Africa and UNICEF we will be running more Cricket 4 Good clinics at next month's ICC Women's T20 World Cup 2023 as we build a legacy from these two ICC World Cups in South Africa," added Furlong.
Johan Weyers, Senior Cricket Manager, Cricket South Africa (CSA) said, "Children of our cricket community centers, clubs and schools attended the ICC Cricket 4 Good clinics over the last few days. The presence of the international players added to the excitement of our girls and boys attending these sessions. The sessions provided ongoing skills development to grow the game amongst our youth. CSA would like to thank ICC, UNICEF, and the participating teams for their efforts to inspire the players to continue with the sport. The Cricket 4 Good clinics function as a catalyst to improve the game in the country."
Christine Muhigana, UNICEF South Africa Representative, said that "Sport is a powerful force for good and is one of society's greatest levelers. The Cricket 4 Good clinics have provided fun for the children, and they've empowered and engaged girls and boys to promote tolerance and gender equality. We know that when girls' do better, we all do better," added Muhigana.
A global partnership between the International Cricket Council (ICC) and UNICEF calls on children, young people, and everyone to #BeAChampion for gender equality. Cricket and sports more broadly can play a critical role in tackling some of the pressing issues of our time.
Cricket 4 Good is the ICC's global community outreach programme, aimed at leveraging the vast power and reach of cricket to empower women and girls.  
UNICEF South Africa's 'Sports for Development' approach aims to bring about social change and cohesion within communities. The strategy focuses on promoting sport and physical education as essential not only for physical and mental health but also to learn the importance of key values such as honesty, teamwork, fair play, and respect.
The Cricket 4Good clinics are scheduled to start again next month to run alongside the ICC Women's T20 World Cup, with the first match on 10 February in Cape Town.
###
Notes to Editors
The volunteers conducting the 'Sports for Development' sessions are alumni of the UNICEF South Africa supported 'Girls and Boys Education Movement' (GBEM), which provides young people with life skills through sports and other activities to help them realize their full potential. Conflict resolution, leadership and mentoring skills are developed to ultimately empower adolescents and young people to thrive in and outside the school environment.
About ICC
The ICC is the global governing body for cricket. Representing 105 members, the ICC governs and administrates the game and is responsible for the staging of major international tournaments including the ICC Men's World Cup and Women's World Cup and the ICC Men's and Women's T20 World Cups as well as all associated qualifying events.
The ICC presides over the ICC Code of Conduct which sets the professional standards of discipline for international cricket, playing conditions, bowling reviews and other ICC regulations. The Laws of the game remain under the auspices of the MCC.
The ICC also appoints the umpires and referees that officiate at all sanctioned Test matches, One Day International and Twenty20 Internationals. Through the Anti-Corruption Unit it coordinates action against corruption and match fixing.
The ICC Development department works with Associate Members to improve the quality of international cricket, build better cricket systems, get more people playing cricket and grow the game.
About UNICEF
UNICEF works in some of the world's toughest places, to reach the world's most disadvantaged children. Across 190 countries and territories, we work for every child, everywhere, to build a better world for everyone. For more information about UNICEF and its work for children, visit www.unicef.org  
Follow UNICEF on Twitter, Facebook, Instagram and YouTube
For more information, please contact:
Toby Fricker, Tel: +27 61 418 7486, tfricker@unicef.org
Sudeshan Reddy, Tel: +27 82 561 3970, sureddy@unicef.org
UN entities involved in this initiative
UNICEF
United Nations Children's Fund