Story
Interview: Songezo Mhambi, A UNDP small business initiative beneficiary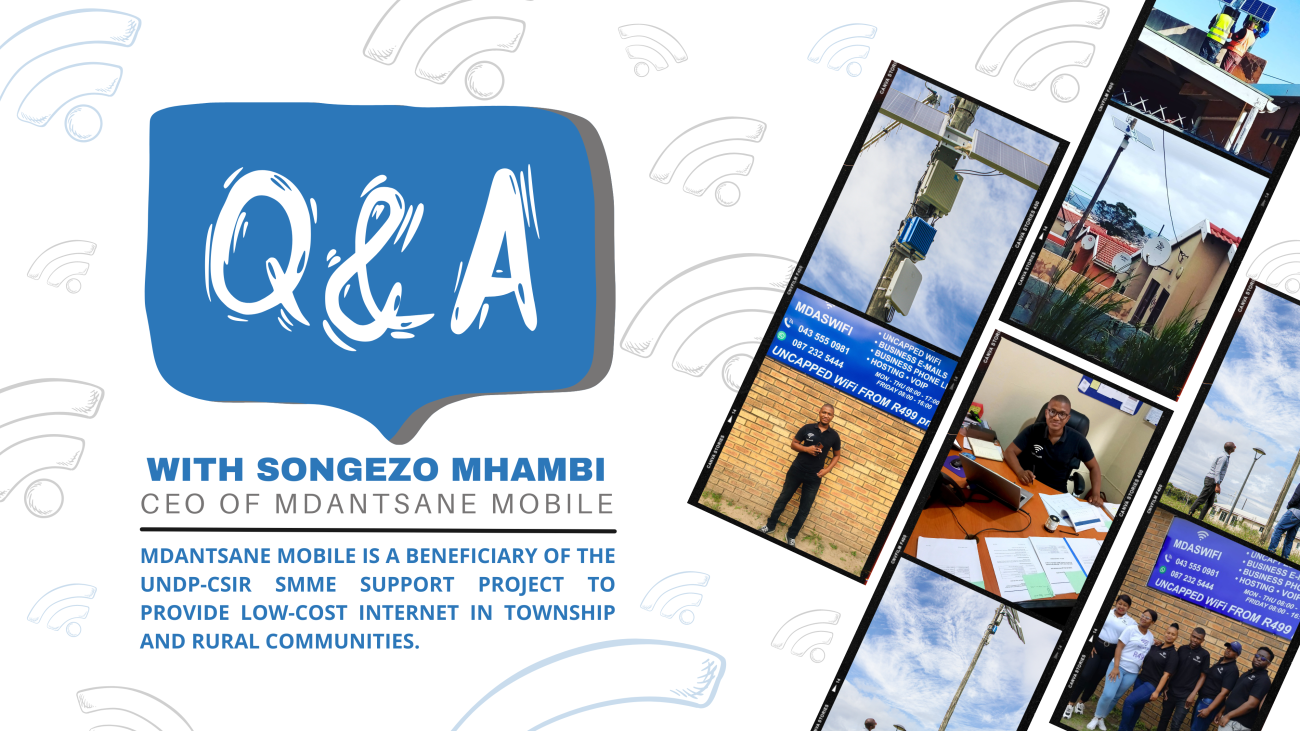 Through the UNDP-CSIR intervention, 15 high-performance outdoor Wi-Fi client stations/hotspots equipment were provided.
The United Nations Development Programme (UNDP), together with the Council for Scientific and Industrial Research (CSIR), is supporting small medium and micro-sized enterprises to roll out the TV White Spaces network technology in rural areas under the project, "Support to SMMEs to Provide Low-Cost Internet in Township and Rural Communities."
The TV White Spaces (TVWS) takes advantage of idle or unused spectrum between TV broadcast bands that can then be used to provide broadband without interference to broadcasters. Through this initiative, the SMMEs are providing affordable digital connectivity via Wi-Fi hotspots to individuals, schools, clinics, taxi ranks, digital hubs, and other public facilities in the provinces of KwaZulu-Natal, Eastern and Western Cape, and the Free State.
This initiative forms part of UNDP's ongoing efforts to advance inclusive growth through entrepreneurship and youth development programmes and extend connectivity to remote areas and vulnerable populations.
The approach addresses the digital divide that prevents societies from harnessing the full benefits that information and communication technologies (ICTs) can deliver.
To date – through the project – 100 public Wi-Fi hot spots have been erected, 43 jobs created, 37 public facilities, 470 households and 56 small businesses connected. It also gives access to 4,640 daily concurrent users in public hot spots.
Songezo Mhambi, the chief executive officer of Mdantsane Mobile, is one of the ten benefitting SMMEs of the UNDP-CSIR initiative.
His company, established in 2019 as a community Wi-Fi network operating from his grandmother's backroom selling handwritten Wi-Fi vouchers to neighbours, is already serving the community in Mdantsane, Eastern Cape. Songezo shared his success story as a young entrepreneur thriving in rural Mdantsane.
Please tell us why you are in this business?
I'm not only concerned with just Mdantsane or South Africa being left behind in development, but the entire African continent missing out on yet another industrial revolution as we've done in the first three revolutions. I believe the 4th industrial revolution should be Africa's opportunity to showcase that we have the will and the ability to also play a leading role in the world.
Why do you think it's important for citizens in townships and villages to have access to reliable internet? What are the current challenges and how is Mdantsane Mobile filling the gap?
These are the citizens who are normally deprived of accessing several resources, including exposure to valuable information. That is why internet access is vital for citizens in remote areas to give them access to all the critical information at their fingertips. As municipalities continue to adopt digitization, residents will begin to manage all their municipal services online, including library material and other things.
Even E-commerce is gaining prominence, especially following the COVID-19 pandemic.
This access and relative opportunities should not only be exclusive to citizens living in urban areas. If citizens in rural areas and townships are able to access affordable internet, they are likely to benefit way more from doing most day-to-day tasks and running errands virtually online.
What kind of support did you receive from UNDP-CSIR?
Through the UNDP-CSIR intervention, we were provided with 15 high-performance outdoor Wi-Fi client stations/hotspots equipment. Included was 12 months' worth of operating capital support for the project.
The CSIR also holds some training seminars to assist all participating SMMEs around the areas of business management and technical training around TV White Space technology.
How has your business grown since the introduction to UNDP/CSIR?
The 15 hotspots add to the already existing public Wi-Fi network we had been building.
They have expanded the public Wi-Fi coverage three times. This means we can reach more subscribers in Mdantsane. This is critical as 70% of Mdantsane's almost 200,000 residents have been found to not have adequate access to the internet in the 2011 census report.
Do you think this model is sustainable for your community? With most townships and villages populated with citizens who live below the poverty line, can they afford it?
Yes, it is highly sustainable. We cater for a wide range of subscribers. We have prepaid subscribers who make use of our Wi-Fi vouchers which retail from as little as R25 for 1,5GB and R100 for 10GB. Prepaid subscribers can also share data with friends by linking more devices to connect from the same voucher.
We also have our fixed home Wi-Fi which starts at R499 per month for 10 MBPS uncapped internet. Households pay a once-off installation fee of R999 to be activated and have an internet outdoor dish and indoor Wi-Fi router installed in their home. Other Internet Service Providers (ISPs) charge more than R2,000 for the installation fee of fixed wireless internet and R999 for 10 MBPS uncapped internet per month.
How do you see the internet penetration transforming your community? Any examples of impact?
Schools in the area have been struggling with connectivity for years because of the lack of telephone systems.
The internet also presents an opportunity to move the schools' administration to VoIP (Voice Over Internet Protocol) which requires reliable internet access for the telephone to work. Residents will have more, faster access to valuable information and the ability to search and apply for employment online.
Municipal services are beginning to move online with residents being able and encouraged to attend to their municipal account affairs electronically. School pupils are also adopting e-learning along with their educators and, internet access is vital to ensure this digital transition runs smoothly so Mdantsane and other townships don't get left behind in the 4th industrial revolution.
How many people do you employ and how many of them are women?
I employ a total of nine staff members, five of whom are women.
What are your plans for the future?
We are looking to expand to the rest of the Buffalo City Metropolitan Municipality while deploying small network cells in other provinces to begin building our national footprint. We are also looking to establish our presence in all major data centers in the next few months from Johannesburg to Durban and Cape Town. This should help us to begin peering with other ISPs and content providers who are co-locating at the main data centers.
Who are the greatest consumers?
School children are the biggest users of the prepaid voucher service. Families are the biggest users of fixed uncapped Wi-Fi packages.
UN entities involved in this initiative
UNDP
United Nations Development Programme