Story
Eastern Cape becomes the first South Africa province to campaign on U = U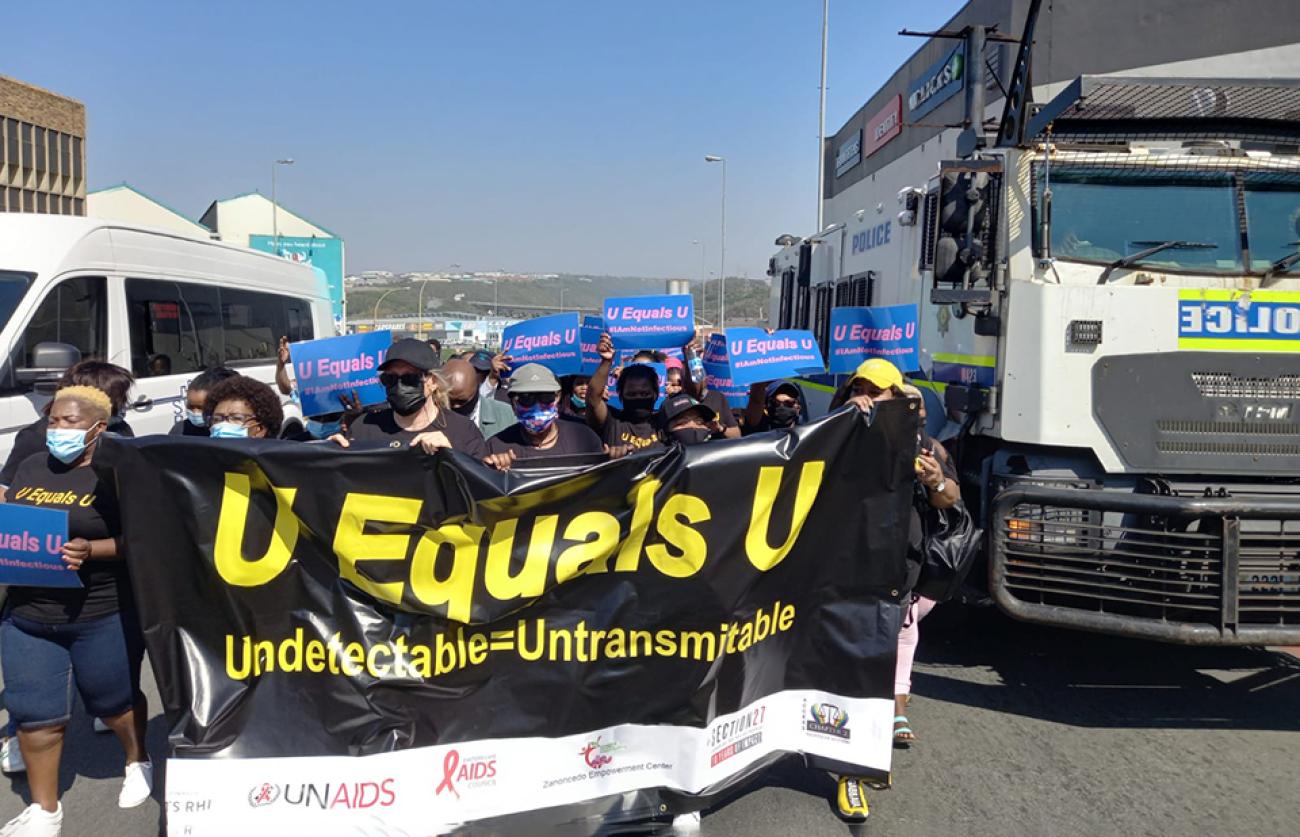 The innovative campaign celebrates the fact that people living with HIV who receive effective anti-retroviral therapy.
Hundreds of people living with HIV are spreading the word in South Africa that effective treatment can prevent onward transmission of the virus. The Eastern Cape has become the first of nine provinces in South Africa to launch a public information campaign to raise awareness of U = U (undetectable = untransmittable) and to encourage people living with HIV to commence, maintain or resume treatment and achieve and maintain an undetectable viral load.
The innovative campaign celebrates the fact that people living with HIV who receive effective antiretroviral therapy and achieve and maintain an undetectable viral load cannot pass HIV to others via sexual activity.
The overall goal of the Eastern Cape U = U campaign is to reduce HIV transmission by promoting treatment adherence and decreasing loss to follow-up, increasing viral suppression and improving data management. The campaign is also promoting HIV prevention, including the use of condoms, and wider sexual and reproductive health.
Importantly, the campaign was designed to help the province to catch up and reach the HIV targets for 2020, under which 73% of all people living with HIV should have achieved viral suppression by 2020. Eastern Cape had reached 58% by 2020. The new global target for viral suppression is 86% by 2025.
The campaign was officially launched with pledges of support from Eastern Cape Premier Oscar Mabuyane, community members and other prominent stakeholders, including the Eastern Cape Provincial AIDS Council, the Department of Health, the South African National AIDS Council and UNAIDS.
Campaign leaders hope to inspire similar activities across the country and beyond. "We want this to be a bottom-up approach," said nurse clinician and U = U pioneer Mandisa Dukashe, who first approached the Eastern Cape AIDS Council about the campaign. "We hope the success in Eastern Cape will inspire other provinces, at the national level and outside South Africa," she said.
Four hundred people living with HIV have been trained as U = U peer educators across South Africa, including 70 in Eastern Cape, who formed the core of the new campaign. Campaigners are collaborating in a series of groups to ensure that awareness is raised, communities are mobilized and service providers are trained and ready.
The implications of U = U are that people living with HIV need access to treatment as soon as they are diagnosed and to maintain effective treatment to become virally suppressed. This means that people visiting health clinics and receiving a positive HIV test result need quality counselling, said Ms Dukashe, who is herself living with HIV. "There is not much time spent now with clients when initiating their treatment and they can get lost in the health system."
The concept of U = U arose from trials in South Africa and elsewhere that found that early antiretroviral treatment of HIV infection can prevent onward transmission. However, people can only know whether they are virally suppressed by taking a viral load test. Viral load levels should be monitored regularly to be sure that the HIV medicines are working, and this requires the active involvement of health-care professionals.
The campaign organizers want health-care providers to communicate this information to all people living with HIV. They particularly hope to inform couples' counselling, especially those in serodiscordant relationships, where one partner is living with HIV and the other is HIV-negative. U = U cannot only prevent transmission of HIV to the negative partner, but can also prevent onward transmission to their child if the couple conceives.
Importantly, knowledge of U = U can help to reduce stigma about HIV infection and motivate people to start treatment in order to become virally suppressed and continue follow-up care. Globally, 66% of people living HIV were virally suppressed in 2020, with South Africa estimated to have achieved 61%, with 58% in Eastern Cape. This compares to the global targets of 73% of all people living with HIV achieving viral suppression by 2020, and 86% by 2025.
Over the next six months, Eastern Cape province will spread the U = U message across diverse audiences, through social media, radio and print media. Peer educators are working as HIV ambassadors and sharing their stories to inspire others. The campaign will also use billboards, rallies and community dialogues to reach as many people as possible.
"There is clear evidence that U = U messaging works and helps to bring people back to treatment and reduces stigma and discrimination," said UNAIDS Country Director for South Africa, Eva Kiwango. "Treatment interruption is a persistent issue in South Africa and this campaign helps remind everybody that having an undetectable viral load when you are taking HIV treatment also stops transmission of HIV to others. This is critical for populations at higher risk of infection, such as adolescent girls and young women and key populations, including sex workers and gay men and other men who have sex with men."
UN entities involved in this initiative
UNAIDS
Joint United Nations Programme on HIV/AIDS