Press Release
UNICEF South Africa Press Release: Japan bolsters UNICEF support to COVID-19 vaccine roll-out
15 March 2022
The Government of Japan provides US$2.1 million (ZAR32.7 million) to strengthen cold chain systems in South Africa and ensure vaccines reach 'the last mile'.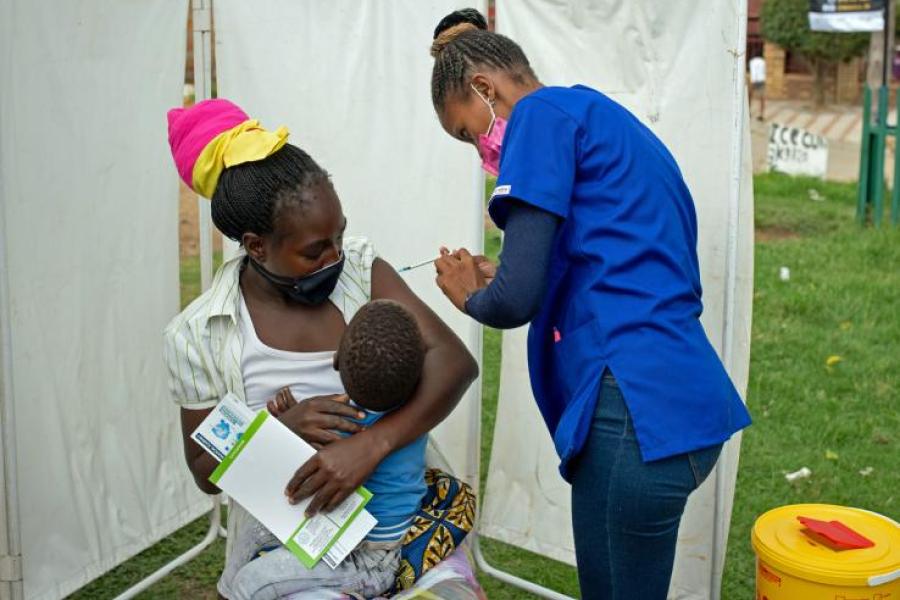 PRETORIA, 15 March 2022 – The Government of Japan has committed US$2.1 million (ZAR32.7 million), through UNICEF South Africa, to strengthen vaccine cold chain systems and to build capacity in promoting and rolling out vaccinations in South Africa.
The resources will go towards procuring additional cold chain equipment, to the training of frontline health workers on effective vaccine management and to strengthen technical capacity to further scale up COVID-19 and routine childhood vaccinations.  
"The Government of Japan is committed to promoting and ensuring equitable access to vaccines throughout the world," said H.E. Ambassador to South Africa, Norio Maruyama. "We are pleased to provide additional support to South Africa to build vaccination capacities now and for the future so that everyone can access lifesaving immunizations," added Maruyama.
Recent research from the University of Johannesburg / Human Sciences Research Council (HSRC) showed that 38 per cent of unvaccinated adults, some 10 million people in South Africa, were favourable towards taking a COVID-19 vaccination. Not knowing where to go, difficulty getting to a vaccination site and cost were the top three reasons for not having taken the shot.
The funding from Japan will play a role in enabling UNICEF South Africa, working with National and Provincial Departments of Health, to target those 10 million people to ensure they can more easily access the COVID-19 shot.
"This extremely generous support from the Government of Japan comes at a critical time, as we push to further increase COVID-19 vaccination rates," said Christine Muhigana, UNICEF South Africa Representative. "The resources will also importantly strengthen broader child health services, including routine childhood immunizations that have dropped in coverage since the start of the COVID-19 outbreak," added Muhigana.
A strengthened vaccination system will help to protect children against childhood diseases and ensure that the health system is robust enough in the event of future health crises.
The Government of Japan support to South Africa makes up one part of an 'Emergency Grant Aid' of US$30 million to 17 countries in Africa and the Latin America and the Caribbean region that have suffered from the broad ranging impact of COVID-19.
About UNICEF
UNICEF works in some of the world's toughest places, to reach the world's most disadvantaged children. Across more than 190 countries and territories, we work for every child, everywhere, to build a better world for everyone.
For more information, please contact:
Toby Fricker, Tel: +27 61 418 7486, trfricker@unicef.org
Sudeshan Reddy, Tel: +27 82 561 3970, sureddy@unicef.org
UNICEF South Africa Press Release: Japan bolsters UNICEF support to COVID-19 vaccine roll-out
UN entities involved in this initiative
UNICEF
United Nations Children's Fund