UNICEF and The South African Red Cross partner to assist migrant children
Global data show that South Africa is a major route for migration in the region, but there has been limited understanding of the situation of children.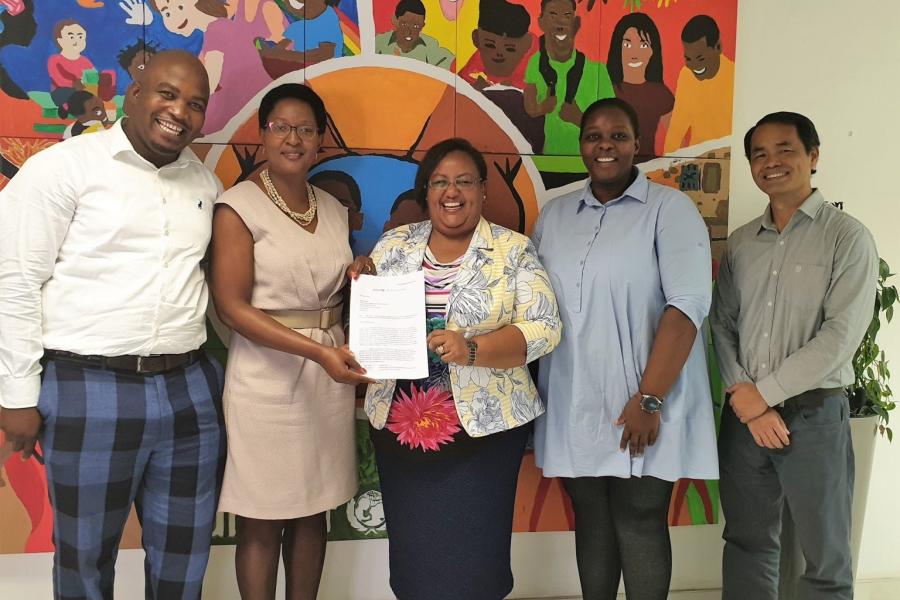 Photo | UNICEF South Africa
Pretoria, South Africa, 15 January 2020 – South Africa is a major destination for migrant children on the move from countries throughout Eastern and Southern Africa. According to UNICEF's latest Data Snapshot of Migrant and Displaced Children in Africa, more than 642,000 migrant or displaced children currently live in South Africa, making it the country with the largest child migrant population on the continent. South Africa's mixed movements includes refugees, asylum seekers, victims of trafficking, smuggled migrants and unaccompanied and separated minors.
In this context, the United Nations Children's Fund (UNICEF) and The South African Red Cross Society last week signed a partnership agreement to improve the protection and care of separated and unaccompanied migrant children in South Africa. Both partners will work with the Department of Social Development to undertake a national in-depth survey of unaccompanied and separated migrant children in alternative care in the country – such as children living in institutions – and they will then provide emergency support to children and families who migrated to South Africa from other countries. The support will include food, shelter, school supplies, but the support will also go beyond physical needs with psychosocial support.
Many refugee and migrant children experience ongoing violence and exploitation on their journey and many arrive in the country without parents or caregivers, while others arrive with parents or relatives and they are later separated. Currently, the care and protection of unaccompanied and separated migrant children is determined by the courts South Africa and these children are often placed in Child and Youth Care Centers (CYCC), or in temporary community-based foster care.
The lack of national data on the numbers of unaccompanied and separated migrant children prevents national authorities to fully plan for their care and protection. The data collected during the survey will be used by authorities and service providers to better support migrant children, including to identify options for alternate care and address the barriers that those children face such as accessing birth registration as well as education and health care services.
"Global data show that South Africa is a major route for migration in the region, but there has been limited understanding of the situation of children on the move inside the country," said Muriel Mafico, UNICEF's Acting Representative in South Africa. "The partnership with the South African Red Cross will support the efforts of the Department of Social Development to better understand the situation of migrant children in the country to ensure that they have access to appropriate child protection services and reunification with the families which is a long-term and durable solution for them."
For more information, please contact:Louis Vigneault-Dubois, Chief of Communications (a.i.), UNICEF South Africa, +27 61 418 7486, lvigneault@unicef.org or Sudeshan Reddy, Communication Specialist, UNICEF South Africa, +27 82 561 3970, sureddy@unicef.org
UN entities involved in this initiative
UNICEF
United Nations Children's Fund